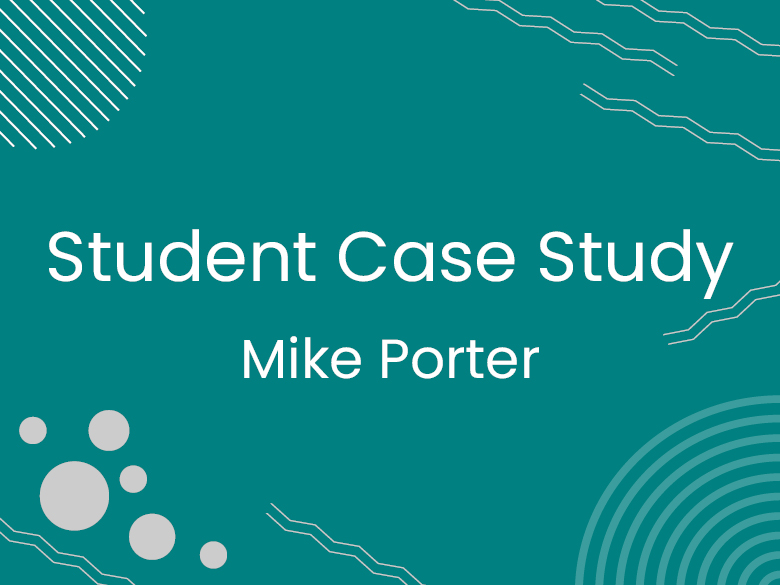 Coaching and Mentoring Case Study – Mike Porter
Within my role I work with graduates coming into the NHS. I found the taught sessions really useful; awareness of theories and how to apply these within my workplace. Exploring the difference between coaching and mentoring and thinking about this in the context of the organisation.
In relation to the contracting process, exploring boundaries, expectations and agreeing the overall aims including how feedback is used and gathered was beneficial in ensuring we set off in the right way while allowing scope for flexibility. Getting off to a strong start allows you to see benefits throughout the process.
For me involving stakeholders was an important part of the process. This helped my awareness of barriers to coaching.
My own reflection helped me to improve my communication skills. Ensuring I didn't interrupt, using different questioning style and ensuring different types of questions are used at different times. Probing questions were something I had not used much before but the course gave me the time to consider the benefits and the opportunity to practice and utilise these. The observation process helped me to see where I had missed opportunities to use different question types to the benefit of all parties.
Structuring feedback is an important part of the process and one I had not considered much prior to the course. Using a model to help structure this process paid dividends. Diagnostic tools I used were Merril Reid communication styles and Honey and Mumford learning styles helped me to understand more about my coachees. The GROW coaching model was my preferred approach. This model allowed me to structure the process. As the course progressed, with improved experience, I had more confidence in utilising alternative models such as OSCAR, supporting me to find structure to the process and gathering feedback from my coachees.
My workplace supervisor was able to provide additional support through observations and feedback. I found his guidance helpful in the development of my skills.
My coachees have been empowered to grow in their current roles and secure new roles; this has given me confidence and motivation to continue to be part of the coaching team at the NHS. Seeing my coachees gain new positions at levels higher than they would have previously thought possible shows the benefit of the process to both the coachee and the organisation.
I have really enjoyed the process I have been through as part of the course. I have learnt more than I expected throughout the course and am keen to develop further as a coach. It has been a long time since I had done anything academic so the assignments were daunting at first but I enjoyed the process of writing these and showing how I could apply the theories I had learnt to my work role. The coaches handbook and the advanced communications books are such great resources. Having access to online material made available by CAW and ILM was a huge benefit. Following the course I am looking forward to joining the organisations coaching network. This will allow me to link with other coaches and share experiences including best practice.