AAT Level 2 Foundation Certificate in Accounting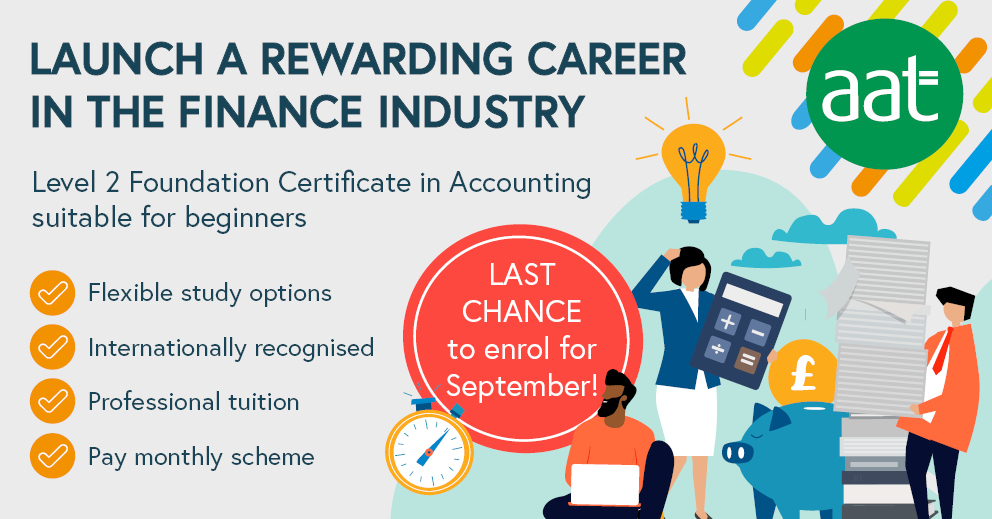 Awarded by the Association of Accounting Technicians (AAT), the AAT Level 2 Foundation Certificate in Accounting is the foundation level of the internationally recognised AAT qualification.
This qualification is ideal for any of your team that are new to finance or are looking to expand existing knowledge and skills. A range of basic accounting principles and techniques such as costing, double-entry bookkeeping and computerised accounting.
Key Facts
Attendance: Half Day Release (9.15am-1pm and 1.15pm - 4.45pm), Day Release (9.15am-3.30pm), Evening Course (5.30pm-8.30pm) or Distance Learning (No college attendance, start at any time)
Duration: Nine months
Next start date: September 2021
Location: North London, Leeds or Godmanchester
Entry Requirements
Whilst there are no formal academic entry requirements to undertake the AAT Level 2 Certificate in Accounting, competency in basic maths and English skills are necessary.
Course Content
This qualification offers a combination of classroom lessons, regular tutorial support and online study.
The following five units will be studied:
Bookkeeping Transactions
Principles and procedures related to processing business transactions, financial documents and payments for customers and suppliers.
Developing skills in processing ledger transactions and preparing an initial trial balance.
Bookkeeping Controls
Maintenance and reconciliation of a cash book by accurately entering receipts and payments, balancing and reconciling with bank statements.
Knowledge and understanding of the UK banking system and related organisational activities.
Petty cash transactions and the importance of the Journal as a primary accounting record.
Maintaining control over debtors and creditors, aided by preparation and use of debtor and creditor control accounts.
Non-standard bookkeeping transactions and double-entry bookkeeping records.
Work Effectively in Finance
Developing transferable skills and effective working in an accounting environment.
Teamwork skills and the ability to work independently.
Demonstrating workplace-ready standards of literacy and numeracy.
Elements of Costing
Cost recording systems within an organisation and how best to respond to requests for information relating to costs and expenditure.
Recording and extracting information, and using a costing system to provide information for management.
Using Accounting Software
Selecting and using computerised accounting or bookkeeping software to input and process data for orders, invoices, receipts and payments.
Preparing management and period-end reports.
Assessment
Computer based exams or projects will be undertaken. As we are an AAT accredited exam centre these exams can be taken at College without the need to travel to an external exam centre.
Course Fees
Course fees can either be paid in full before the beginning of the course, on an annual basis, or via our 'Pay As You Learn' monthly payment scheme.
If your employee has not achieved your qualification by the planned end date continued support and course access is available by paying monthly direct debit payments until certification is achieved.
| | |
| --- | --- |
| Full Fee | Pay As You Learn |
| £1,049 | £96 per month |
Awarding Body Fees*
Payment for AAT membership, exam fees (approximately £205*) and textbooks will also be required.
* Awarding Body Fees are payable by all students or employers and recharged at cost and may be subject to change.
These are current figures and may be subject to change. The differences in course fees reflect the level of funding that is available as a result of government policies and priorities. These may be as a result of age, employment status, previous education achievements, or location for example, and are outside the control of CAW Business School.
Testimonials
What our AAT students say…
We asked our students what aspects of their AAT course they have most enjoyed. Here are some of the things they had to say!
"Learning new skills, socialising with people within a similar field of work and with similar goals"
"I have really enjoyed the classes and follow up activities for homework. The resources are very good"
"Manageable sections. Broken down so not overloaded with information"
"Good tutor making a hard subject easy to understand with good examples"