How to Change Career in 4 Easy Steps X
Posted: 16 April 2020 at 1:22 pm | Author: CAW Business School
Whether you've recently been made redundant or are unhappy in your current role – you may find yourself wondering how to make a career change.
It may not be as hard as you think! If you're longing for a job you're really passionate about, now could be the perfect time to take a leap of faith and change career paths!
Recent research has revealed that Britons spend a total of 12 years at work during their lifetimes*. They say doing a job you love means you never have to work for a day in your life; and one thing is for sure – 12 years is way too long to be stuck in a role that doesn't inspire or challenge you.
Check out our advice for how to start a new career, including four key steps you need to take before you consider a job switch: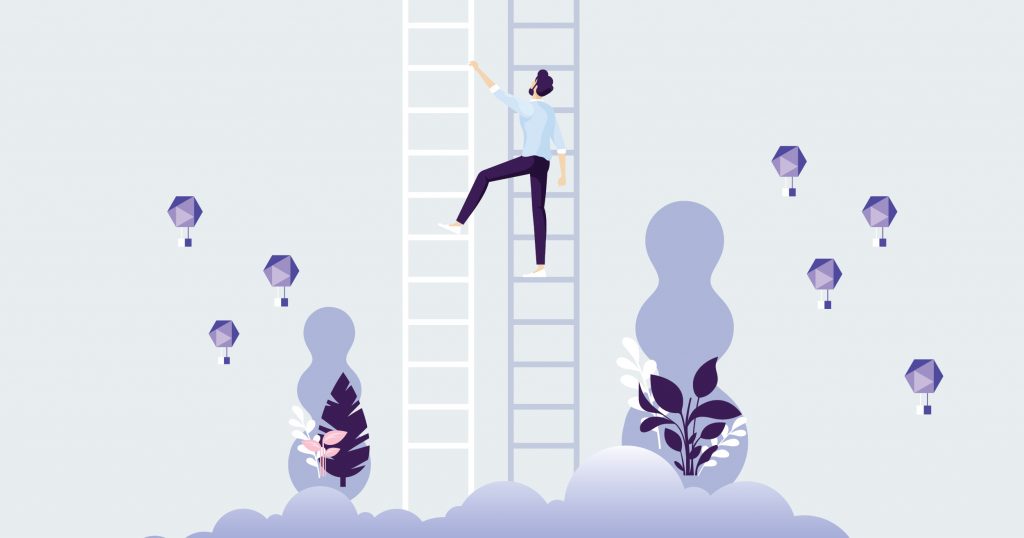 1. Take stock and understand what you want from changing careers
It can be tempting to just jump straight into the first job that comes along for the sake of it, but it's worth pausing and thinking about what you want first. You need to consider why you don't/didn't like what you were doing and, equally, where you may be happy in the future. If you can create a picture around where you want to be in your head, this will hopefully motivate you to approach changing careers with confidence and enthusiasm. Consider the following:
Skills
Assess your interests, values and skills. Review past roles, projects and jobs to identify preferred activities and skills; and look for roles that speak to your core values and interests. This way, when you come to make a career change, you'll be looking for something that you're passionate about.
Hours
Do you want to work the same hours as you have in the past, or would it work better with your lifestyle to up/lower your hours? Are you able to work weekends or evenings? Does your new career need to fit around other commitments such as childcare?
Salary
Are you happy to take a pay cut for the dream job, or is a pay cut not an option?
Life stage
How many working years have you got left? Are you at the beginning or your career, is it a midlife career change, or are you coming to the end of your working life? What is going on in your personal life, and what kind of roles will complement it?


2.Gain career change advice to understand all your options
Thanks to the wealth of advice available on changing careers, it may be that you already know what move you want to make. In contrast, you might still be researching what new roles could work for you. If this is the case, it's likely you're looking for familiar roles that directly fit your past roles, skills and experience, but in actuality – many skills are transferrable, so it's worth expanding your horizons. If you're looking for career change ideas, you can understand more about what kinds of jobs are available and gain appropriate careers advice by:
Making notes on what you liked/disliked about your previous positions
Searching through career profiles on the National Careers Service website
Undertaking the National Careers Service skills assessment for career suggestions
Attending open days and careers events at local schools, colleges, universities, libraries or job centres
Contacting a careers guidance organisation to gain career change advice
Making contact with people already working in the industry to gain an insight into the roles available
Speak to other people who have successfully done a career switch
Speak to friends and family about their jobs
Seeking support from an advisor at an employment agency
Join a temping agency and try short term work in a variety of environments to get a feel for what you like and dislike
Basically, seek advice, do your research, get a picture of what's available and put yourself 'out there'. Speak to recruitment agencies, make contact with former co-workers or attend networking events.
3.Find out what's feasible and work out what's been holding you back from starting a new career
Contrary to what people say, it's never too late to change careers if that's what you really want. Age is no limit – you can career change at 30, 40, 50, 60 and all ages below, above and in-between! Lack of qualifications, skills or experience needn't hold you back either – there's always the opportunity to go back to college or retrain on-the-job.
You need to identify any reservations or concerns about what a career change might mean early on, so you can address them. For example, here are some common factors you may need to think about before proceeding:
I want to change my career, but…
Childcare is a barrier to retraining
Is it possible to undertake a remote qualification, or seek help from family in order to attend a part time/evening class?
Finances prevent me from taking a pay cut or retraining
Could you consider a similar job but in a different industry? Perhaps a promotion to a more senior/managerial role? Or look for a loan or bursary to help cover the costs of retraining?
I don't have the qualifications needed
What local training/work options are available that work for you?
I don't have the time to retrain or gain on-the-job experience
How can you create time? Sit down and look at where you may waste time during the day – for example checking social media, watching TV and so on.
Once you've considered your barriers to starting a new career, you can begin to put a plan in place to overcome them logistically.
4.Be realistic about your position and put in the work needed for a successful career switch
If you want to join a profession that you have no experience, qualification or relevant skills in, chances are you're not going to have much luck in the jobs market initially.
Remember – you're going to be in competing against applicants who have years of experience in the industry or those who are currently doing your dream jobs.
This doesn't mean you should give up on your ambitions. In this instance, it means you don't ask yourself how to make a career change. Instead, you work towards having the skills and experience to be able to do so first. You have to honestly review your current position and put an action plan in place to make yourself marketable for those roles.
Think about ways you can appear more attractive to employers in your chosen industry. For example, do you need to take a training course, do some volunteering or find a mentor to help build your skills and experience? Here are some ways you can prepare yourself for a career change:
Study a formal qualification
Employers want to see that your technical knowledge and skills are relevant and up-to-date. This is where an accredited qualification can help you stand out. Undertaking a qualification can help you fill in knowledge gaps and gain the skills you need to pursue a career change. CAW Business School offer a number of training programmes where you can learn transferrable skills relevant to many industries:
Learn a new skill
Free or paid courses and training can be found on almost any topic online, including soft skills that many employers look for. These programmes make great additions to your CV and show proactivity. A few popular choices include:
Gain on-the-job training
Seeking internships, voluntary placements or job shadowing opportunities can help you retrain for a new career and gain an insight into the roles you're interested, helping you decide whether it's really for you. More than this, the on-the-job training will boost your credentials when the time comes to put yourself out there on the jobs market.
Try career change jobs with no experience required
Here are some entry level career change ideas in different industries that may be able to help you get a foot in the door and gain on-the-job training:
Administrative and clerical – receptionist, administrative/office assistant,
Business and retail – office/finance/HR assistant, data entry positions, customer service/sales representatives
Health care – healthcare assistants, porters, support worker, carer
Animal care – animal care assistants, kennel/cattery workers, dog walkers
Hospitality – Bartender, waiter/waitress
Have you considered an apprenticeship?
It's a myth that apprenticeships are only for people new to the world of work. Apprenticeship programmes can also help you change careers by giving you an opportunity to gain experience in a different industry, whilst still getting paid (many employers pay much more than the NMW for apprentices). It could be the perfect solution for those looking at how to change careers! Check out the latest apprenticeship vacancies on the government website
Find a coach or mentor who can offer career change advice
Do you feel like you need more direction in how to change careers, or want to discuss your wider career options in more detail? If so, have you considered asking someone to be your mentor? From expanding your professional network and making use of practical advice, to exploring new ideas and gaining new skills, you can gain a lot from having a mentor and it could pay off professionally in the future.
Starting a new career may not be as hard as you think
When it comes to changing careers, the path to success if simple: understand what you want, research how to get there and put a plan in place that works for you. Remember, it's always possible to take a different path if that's what you really want, so go for it – good luck!
CAW Business School, based in Godmanchester, Huntingdon (Cambridgeshire) was set up by The College of Animal Welfare in 2012 to offer business and accountancy programmes to those throughout the Eastern region and beyond.